The Cabildo of Fuerteventura has decreed a total of 48 surf spots as Natural Heritage and Sports Interest, so they will be protected from any maritime work that may affect the development of surf waves.
This is news that not only makes surfers happy, but also makes all water sports fans happy because these measures also benefit those who practice kite surfing, windsurfing, bodyboarding and even tourists who visit the island.
Fuerteventura is an island known nationally and internationally for the excellent quality of its waves during most of the year, in addition, it has everything necessary to welcome tourists who love water sports, especially surfing, this sport attracts thousands of tourists. people from all over the world who think of coming to enjoy their beautiful white sand beaches or surfing these waves of international level, there are even those who our island captivates in such a way that they get to settle on the island and take their lives around surfing.
The waves in Fuerteventura are not only of great sporting benefit, but also of great cultural and economic interest, in addition, they have a great positive impact on local activity. So the actions of the council of Fuerteventura to protect the surfeables areas are an example worth imitating.
These measures seek to avoid losing all the sporting, natural and economic potential of Fuerteventura. Regardless of the growth of the population or tourism should be taken care of actions such as constructions of artificial beaches, marinas, extensions or any other action that may affect these waves.
Through a study we have identified the surfeables areas of each spot and the areas of influence that a work could have so as not to affect the formation and behavior of the waves.
Of the 48 spots, 39 are located on the north coast of the island, know them here: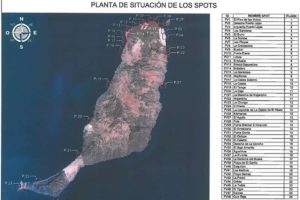 These actions of the Cabildo de Fuerteventura show the importance of the waves to Fuerteventura and the Canary Islands so it is shown that they are really intangible riches that must be taken care of and it is expected that the other islands copy these wonderful actions.